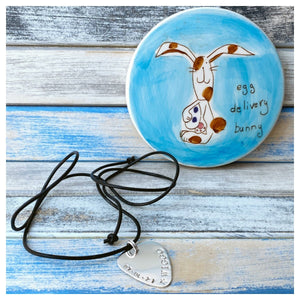 Handcut and stamped guitar pick...  I used my much treasured Ricky Warwick plectrum I caught at a Black Star Riders gig...  That is my template...  then its chopped out with my saw and smoothed until it feels right 

Hung simply on black leather.

Made by Me, in my Shed, in the UK... 
All my pieces are made individually by hand and carry my makers mark.

Designed by me Steph at Scruffy Dog Silver.