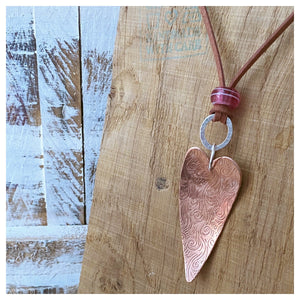 Now for something totally different!  
This piece was created using bits and pieces of precious metal I had scattered on my bench… tidy or make !  I'm a maker !!!

A beautiful handcut textured loveheart pendant… 
It's BIG… copper heart is approx 7cm x 3cm… It's been run against my blustery days texture plate in the rolling mill… Then shaped using just my paws after heating up the copper… such a beautiful metal to work with…
Hammered flat oval link is 2cm long…

Hung simply on gorgeous tan eco suede topped with a handmade candy pink bead…
Perfect for layering up with other treasure !
Absolutely one of a kind… 
Made by Me, in my Shed, in the UK... 

Will arrive fully giftwrapped and is posted by first class delivery...

All my pieces are made individually by hand and carry my makers mark. Designed by me Steph at Scruffy Dog Silver.