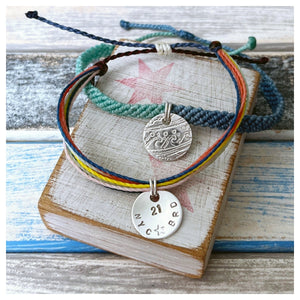 A ScruffyDog favourite !  The FriendshipWrap !  Adjustable, fun, easy to wear, meaningful...  Individually handmade...

A pair… Braided Wrap is £35… Multi strand is £30… ordinarily with a 12mm charm… but this one has a 15mm on to fit on all the lettering !
Made by Me, in my Shed, in the UK...  A true one of a kind make !

Will arrive fully giftwrapped too...  the perfect present for someone special.

All my pieces are made individually by hand and carry my makers mark. Designed by me Steph at Scruffy Dog Silver.