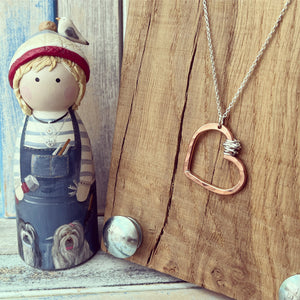 Now for something totally different!  
This piece was created using bits and pieces of precious metal I had scattered on my bench… tidy or make !  I'm a maker !!!

A beautiful handcrafted hammered open loveheart pendant with squiggly sterling wire wrap detail… 
It's BIG… copper heart is approximately 40mm… Made from chunksome 3mm wire !  Took some puff to shape !
Hung simply on 18" belcher chain!
Perfect for layering up with other treasure !
Absolutely one of a kind… 
Made by Me, in my Shed, in the UK... 

Will arrive fully giftwrapped and is posted by first class delivery...

All my pieces are made individually by hand and carry my makers mark. Designed by me Steph at Scruffy Dog Silver.