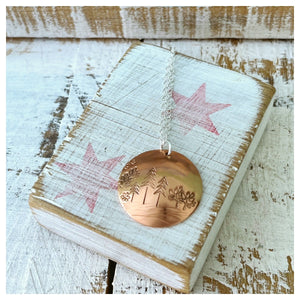 A little something for those of us who simply love to swim outside… this was inspired by my fabulous swim at Sywell Reservoir yesterday… I am lucky enough to have this on my doorstep and can now swim twice a week… it's bliss.
Copper Pendant is 25mm… design is created by me using individual jewellery punches... then it's been domed into a really pleasing shape... its super shiny on the reverse !

Chain is sterling silver - 18"
Made by Me, in my Shed, in the UK... 

Will arrive fully giftwrapped and is posted by first class delivery...

All my pieces are made individually by hand and carry my makers mark. Designed by me Steph at Scruffy Dog Silver.