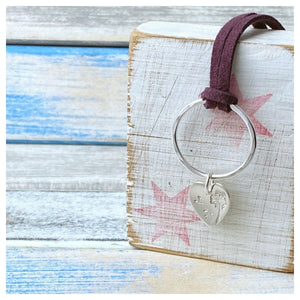 A bit of fun...  the perfect long drop pendant to be worn over jumpers !  Hung simply on beautifully soft, longlasting eco-suede... this piece is self tie at the nape of the neck (no clasp) meaning you can wear at any length...  
Have chosen deep purple for this but I do have other colours !  Just ask !
Hoop is 25mm
Heart is 14mm... handstamped with a dandelion clock and fluff!  Then gently shaped...

Made by Me, in my Shed, in the UK... 
Will arrive fully giftwrapped...  If you are sending direct to someone... let me know and I can happily pop in a giftcard with your message scribbled inside (no extra charge)

All my pieces are made individually by hand and carry my makers mark.

Designed by me Steph at Scruffy Dog Silver.