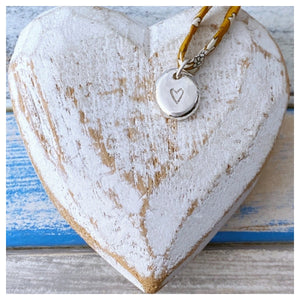 An old ScruffyDog favourite !

A nugget of sterling, created by melting down some of my scraps and offcuts...  Hammered into a pebble and gently shaped smooth... this one has been stamped with a single loveheart.

Nugget approx 10mm x 12mm

Hung simply on a length of brightly colour Liberty of London spaghetti cord - self tie at the nape of the neck  (no clasp)

A great gift idea...
Made by Me, in my Shed, in the UK...

Will arrive fully giftwrapped and is posted by first class delivery...

All my pieces are made individually by hand and carry my makers mark. Designed by me Steph at Scruffy Dog Silver.