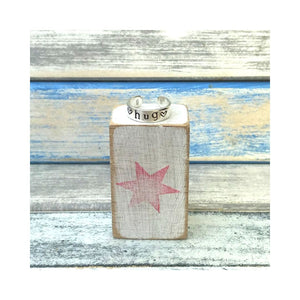 Handcrafted sterling silver toe-ring... individually made...  These have been stamped the word 'Hug' and a couple of lovehearts for good measure !

The edges have been rounded and smoothed for a super comfy fit...  dabbed with enamel ink to help pick out the lettering (*this may fade with repeated wear)

Made by Me, in my Shed, in the UK... 

All pieces are made individually and carry my makers mark.

Designed by me Steph at Scruffy Dog Silver.

Please note the image may not resemble the piece you receive, each piece is individually made by hand.  It may show imperfections and signs of workmanship which I believe is part of my Scruffy Dog charm...