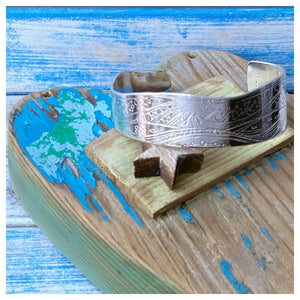 A beautiful handmade sterling silver cuff.  A real statement piece.  A wander along the ocean in silver!  The surf is pumping !

Created from 1mm sterling silver sheet… 20mm wide but tapered in a wavy way… I simply let the saw wander in a pleasing manner!   
150mm in length.  The design was created by pressing the precious metal against a fabulous rolling mill texture plate... 

So absolutely thrilled with how it turned out.

Very easy and comfy to wear.  Adjustable… there is a knack to putting these on and taking them off…  shout if you need to know ! 
Made by Me, in my Shed, in the UK...  A true one of a kind make !

Will arrive fully giftwrapped and is posted by recorded delivery...

All my pieces are made individually by hand and carry my makers mark. Designed by me Steph at Scruffy Dog Silver.  Hallmarked at the Birmingham Assay Office.