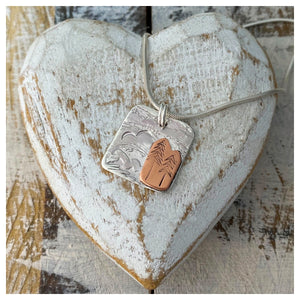 Inspired by my recent open water swims... I get to view the world from a different perspective for a while and I try and bring that feeling I get to a unique piece of jewellery... This make is approximately 20mm square... The silver was pushed through my rolling mill against a wonderful texture plate call 'Crashing Waves',  I then added a seagull and some tall trees... handstamped into copper for a contrast. 

Individually handmade... there won't be another like it... ever !

Hung simply on 18" square snake chain.
Made by Me, in my Shed, in the UK... 

Will arrive fully giftwrapped and is posted by first class delivery...

All my pieces are made individually by hand and carry my makers mark. Designed by me Steph at Scruffy Dog Silver.