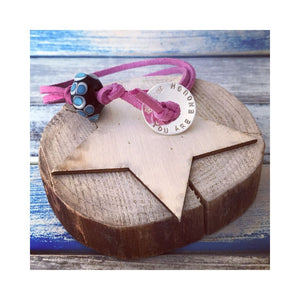 A ScruffyDog favourite !  The ButtonUp WristWrap !  Adjustable, fun, easy to wear, meaningful...  Never two alike !  This one is stamped with 'You Are Enough' and some daisies...  Strung on candy pink eco-suede and complimented with a glorious glass Nalubead…  A real 'One Of A Kind'.

Button is 20mm in size.


Made by Me, in my Shed, in the UK...  A true one of a kind make !

Will arrive fully giftwrapped and is posted by recorded delivery...

All my pieces are made individually by hand and carry my makers mark. Designed by me Steph at Scruffy Dog Silver.