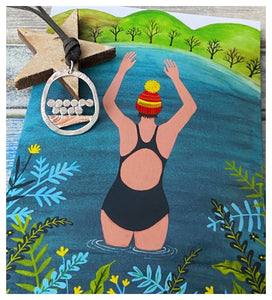 Swimblers Challenge No.2 🏊‍♀️ last week I pledged to create something after my weekly openwater swim… the overwhelming thought today if I'm honest… was… Brrrrrrr 🥶… and the wind was really strong ! Lots of splashing in the face as you swam into it ! I needed window wipers for my eyeballs! So although I was in a beautiful lake it was super choppy!… easy to imagine I was bobbing about in the sea… although it tasted all wrong !!!
I've created a precious metal mix… swirly foamy sea against a seawall… hung simply on grey ecosuede… the same colour as heavy autumnal clouds !
Something a little different… huge fun… gives me a chance to play !
*this beautiful @laurarobertsonartist greetings card was sent to me by one of my lovely customers… this is what I wear ! Cossie and bobble hat !!! It got super soggy today !!!
Will arrive fully giftwrapped and is posted by first class delivery...

All my pieces are made individually by hand and carry my makers mark.

Designed by me Steph at Scruffy Dog Silver.